Established in 2003, the DNDi Eastern Africa office provides support to R&D projects in the region, including the LEAP Platform. Additionally, the office works to build awareness about neglected diseases and realities in the field through regional advocacy and communications activities.
Projects
Clinical research platforms
Research and access consortiums
Quality statement
DNDi Africa is ISO 9001:2015 certified. Find out more about our commitment to quality.
DNDi Eastern Africa brochure

English
2018
DNDi Eastern Africa 2018 Highlights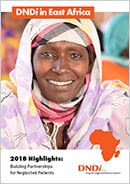 English
2018
DNDi Eastern Africa
Tetezi Towers, 3rd Floor
George Padmore Road
Kilimani
P.O. Box 21936-00505
Nairobi
Kenya
Tel: +254 20 5003 400
Highlights
2018
Launched two leishmaniasis clinical trials in eastern Africa: For visceral leishmaniasis, a Phase III study to compare a combination of miltefosine and paromomycin with the current standard treatment (sodium stibogluconate and paromomycin) began in January 2018.
For post-kala-azar dermal leishmaniasis, a Phase II study began in March 2018 to find safer and easier treatment by testing amphotericin B in combination with miltefosine, and paromomycin in combination with miltefosine.
Coordinated a protocol review and amendment for the ongoing mycetoma fosravuconazole study, following slower than anticipated recruitment, which improved recruitment numbers; by January 2019, 84 patients had been enrolled, reaching the threshold for interim analysis.
Released interim results of the 12-site LIVING study evaluating the effectiveness of child-friendly '2-in-1' lopinavir/ritonavir pellets for paediatric HIV patients, which showed that 83% of children in the study were virologically suppressed at 48 weeks with the 2-in-1, compared to 55% at the beginning of the study.
Supported GARDP's first clinical trial on the use of the antibiotic fosfomycin in newborns with sepsis.
Hosted the DNDi 11th Partners Meeting in Kampala, Uganda on 4 October 2018 to celebrate collaboration and R&D innovation for neglected diseases and discuss challenges, attended by more than 400 partners and stakeholders from over 150 institutions in more than 40 countries, and officially opened by the Right Honourable Dr Ruhakana Rugunda, Prime Minister of Uganda.
Conducted the inaugural DNDi Health Science Journalism Workshop for 18 journalists from 11 African countries to increase their understanding of neglected diseases prevalent in the region and the science behind efforts to develop new drugs to treat these diseases.
Upgraded DNDi's regional office in Nairobi from ISO 9001:2008 to new ISO 9001:2015 certification, requiring enhancement of processes and systems to align with new standards, including risk-based thinking.
2017
Support for the first-ever clinical trial in eumycetoma, studying the efficacy of the anti-fungal drug fosravuconazole at the Mycetoma Research Centre, Sudan
Preliminary evaluation of the paediatric HIV 'LIVING' study: high levels of viral suppression in infants and young children after 48 weeks of treatment
Initiation of the first site for the miltefosine/paromomycin clinical trial in Sudan for visceral leishmaniasis (VL) in Eastern Africa
Community meetings in Amudat, Uganda, and Kacheliba and West Pokot, Kenya to share findings of the miltefosine dosing clinical trial in children with primary VL
Stakeholders' meeting in Addis Ababa, Ethiopia on clinical trial for HIV/VL coinfected patients
ISO 9001:2008 certification (quality management systems) received for Nairobi office
2016
Allometric pharmacokinetic study shows miltefosine remains an attractive option for combination with other drugs; conclusion is that for children, allometric dosing seems to be a better regimen and will be employed in future studies involving paediatric patients.
Paediatric HIV study extends to Uganda, with 5 new sites enrolling over 150 new patients by the end of the year.
LEAP 2.0 – the revamped Leishmaniasis East Africa Platform – launches, with expansion of R&D activities from VL to CL and PKDL, and inclusion of other countries (Eritrea, Somalia, South Sudan).
Following advocacy from DNDi and the Mycetoma Research Centre in Sudan, mycetoma becomes the 18th disease to be included in the WHO NTD list.
Site initiation visits, protocol training, GCP and GCLP training pave the way for study of fosravuconazole as a potential mycetoma treatment.