Who we are
A not-for-profit research organization developing new treatments for neglected patients
Born on the frontlines of medical action
Millions of people around the world die every year from lack of treatment. Yet only a fraction of the world's pharmaceutical research and development focuses on diseases affecting poor and vulnerable communities.
When the medical humanitarian organization Médecins Sans Frontières (MSF) won the Nobel Peace Prize in 1999, they dedicated a portion of the award to addressing this fatal imbalance and exploring a new, alternative, not-for-profit model for developing drugs for neglected patients.
In 2003, the Indian Council of Medical Research (ICMR), the Oswaldo Cruz Foundation in Brazil, the Kenyan Medical Research Institute (KEMRI), the Malaysian Ministry of Health, and the Institut Pasteur of France, with the participation of the World Health Organization Special Programme on Research and Training in Tropical Diseases (WHO/TDR), teamed up with MSF to found the Drugs for Neglected Diseases initiative (DNDi).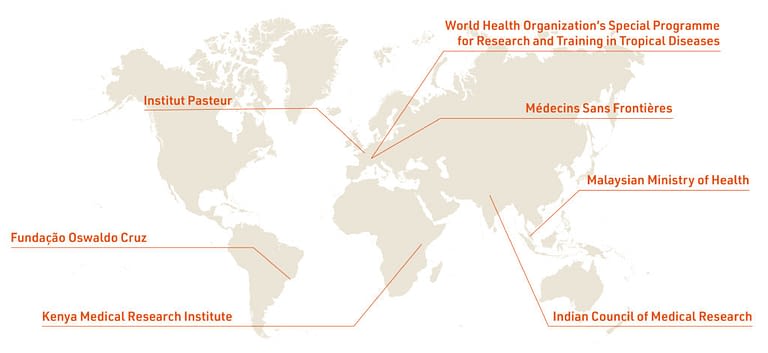 We discover, develop, and deliver new treatments for neglected patients around the world that are affordable and patient-friendly – and have already saved millions of lives.
With offices on five continents, DNDi works to ensure the people most affected by neglected diseases are part of medical research and development, helping to set priorities, strengthen capacity, and deliver new treatments where they are needed most.
About our founding partners
In 2003, DNDi's seven founding partners came together to respond to the frustration of doctors and health workers around faced with medicines that were ineffective, unsafe, unavailable, unaffordable – or that had never been developed at all.
Our vision
To save lives and improve the health of people living with neglected diseases by using an alternative model to develop drugs for these diseases, and by ensuring equitable access to treatment.
In this not-for-profit model, driven by the public sector, a variety of players collaborate to raise awareness of the need to research and develop drugs for those neglected diseases that fall outside the scope of market-driven research and development (R&D). They also build public responsibility and leadership in addressing the needs of these patients.
Our mission
To develop new treatments for people living with neglected diseases. Acting in the public interest, DNDi bridges existing R&D gaps in essential drugs for these diseases by initiating and coordinating drug R&D projects in collaboration with the international research community, the public sector, the pharmaceutical industry, and other relevant partners.
DNDi's primary focus has been the development of drugs for the most neglected diseases, such as human African trypanosomiasis (HAT, or sleeping sickness), visceral leishmaniasis (kala-azar), and Chagas disease, while considering engagement in R&D projects for other neglected patients (e.g. malaria, paediatric HIV, filarial infections) and development of diagnostics and/or vaccines to address unmet needs that others are unable or unwilling to address.
In pursuing these goals, DNDi enables R&D networks built on global collaborations. While harnessing existing support capacities in countries where the diseases are endemic, DNDi contributes to strengthening capacities in a sustainable manner, including through know-how and technology transfers in the field of drug R&D for neglected diseases.
In order to address the evolving needs of public health importance and maintain DNDi's commitment to delivering on the objectives of the current portfolio of diseases, a dynamic portfolio approach is adopted. This enables DNDi to take on new disease areas with various operating models, while completing objectives in current diseases.
Our values
People-centred
We value our colleagues and recognize their contributions
We care about the well-being of neglected patients and the communities we work with
We nurture a respectful, diverse and inclusive working environment
Integrity
We are trustworthy and ethical
We are fair, transparent, and honest
We work to the highest quality to deliver the best science
Innovation
We encourage new ideas
We find solutions through collaboration and creative thinking
We seek sustainable transformation
Courage
We take smart risks
We pursue our goals in the face of adversity
We are ready to challenge the status quo
'When we received the Nobel Peace Prize in 1999, MSF did not have the medicines we needed to carry out our lifesaving work. So we decided to dedicate a portion of the funds received to launch a brand-new model of R&D. Four years later, DNDi was born.'
Dr Bernard Pécoul, Former MSF France General Director, Founder of DNDi
DNDi Charter
Article 1 – Name
An independent, not-for-profit foundation in accordance with articles 80 ff of the Swiss Civil Code, and on the basis of the present Charter is hereby created under the name "Drugs for Neglected Diseases initiative (DNDi)" (hereinafter referred to as "DNDi").
Article 2 – Supervision
DNDi is placed under the ordinary supervision of the Federal Supervisory Board for Foundations (hereinafter referred to as "the Swiss Supervisory Board").
Article 3 – Registered office
3.1 DNDi has its registered office in Geneva, Switzerland.
3.2 Transfer to another location in Switzerland must be authorised by the Swiss Supervisory Board.
Contact us
Do you have questions about collaborating with DNDi, comments about our work, or questions for our team?
Get our latest news, personal stories, research articles, and job opportunities.