Use open access data and collaborative methods to discover compounds that could lead to new medicines for mycetoma
current phase of drug development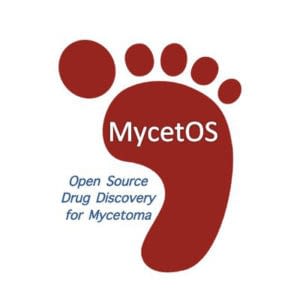 The Mycetoma Open Source project (MycetOS) uses an 'open source pharma' approach to discover new treatments targeting M. mycetomatis, the predominant causative agent of fungal mycetoma (eumycetoma).
MycetOS was launched in 2018 by the University of Sydney, Australia, Erasmus MC (Erasmus University Medical Center, Rotterdam, the Netherlands), and DNDi.
MycetOS progresses drug discovery efforts through community-driven, in-kind scientific contributions and a robust, fully transparent online presence. All ideas and results are published immediately in real time to an open-access database, free of intellectual property constraints. Results and the associated data form the starting point for the MycetOS community, which communicates on Twitter (@MycetOS), uses a dedicated forum (subreddit) for transparent interactive discussion, and shares data and key project files on the GitHub platform.
Using this radically open approach, MycetOS aims to identify potential new treatments in a transparent and inclusive way.
Factsheet
Project updates
2021
In 2021, collaborative work using the MycetOS platform continued. A second manuscript on MycetOS was accepted for publication, and new starting points for mycetoma drug discovery were discovered via screening of the Pandemic Response Box, a joint project of MMV and DNDi.
2020
In 2020, MycetOS improved web-based options for sharing and tracking data and contributions, and released their first newsletter to mark World NTD Day in January. The project also initiated biweekly drug discovery project meetings, which are open for all to attend. Additional hit starting points with potential against M. mycetomatis were identified via screening of the open-source Pandemic Response Box pioneered by MMV and DNDi.
2019
A list of current targets for Open Pharma project MycetOS has been compiled and opportunities given to researchers interested in working on them. Two participating institutions from the Open Synthesis Network have received preliminary data and are working to identify new compounds with potential activity against mycetoma.
More information
Dedicated subreddit forum for transparent, interactive discussion
Data sharing and key project files will be shared on github
For further information, join the project communications on Twitter (@MycetOS).
Launch participants
Associate Professor Wendy van de Sande from Erasmus University, Rotterdam, Netherlands; Associate Professor Mat Todd at the University of Sydney, Australia; Ben Perry at DNDi.
Erasmus Medical Center

, The Netherlands

The University of Sydney

, Australia

University College London (UCL)

, UK
University College London (UCL),

UK

The University of Sydney,

Australia

Erasmus Medical Center,

The Netherlands
Get our latest news, personal stories, research articles, and job opportunities.