unlocking the promise of medical innovation for all
unlocking the promise of medical innovation for all
'Though the COVID-19 pandemic continued to take a devastating toll in 2021, we advanced 50 projects in our research and development portfolio, including multiple new chemical entities, delivered new treatments, and forged new alliances for innovation.'
Dr Marie-Paule Kieny, Chair of the Board of Directors &
Dr Bernard Pécoul, Executive Director
41 R&D projects and an additional
9 projects in the access phase
27 clinical trials in 8 disease areas at 88 sites in 28 countries
Fostering sustainable solutions
80% of all R&D partner FTEs* are based in low-and-middle-income countries
*Staff in full-time equivalents
EUR 66 M in annual expenditure,
89% of which on our social mission
Our cross-cutting commitments
DNDi's 2021-2028 strategic plan charts our path to deliver 25 new treatments for neglected patients in our first 25 years. Learn more about the strategic imperatives shaping our work to end the neglect.
Innovating for children's health
Advancing gender equity and gender-responsive R&D
Confronting climate-sensitive diseases and reducing our carbon footprint
Harnessing AI and new technologies to meet neglected patients' needs
Take a tour of highlights of the year from our teams and partners in Africa, Asia, and Latin America.
Clinical trial capacity where it's needed most
'We have been active in clinical trials for the past 10 years and we are very proud of our work.'
Principal Investigator Dr Felix Akwaso in front of the new river blindness ward at Masi-Manimba Hospital, DRC
Data for good: Eastern Africa innovation
DNDi's Data Management and Biostatistics Centre in Nairobi, Kenya has helped to maximize clinical research capacity in Africa since 2004.
'I wouldn't be alive today if it wasn't for the treatment. I am so grateful for it.'
Cynthia Metuso lives in New Crossroads, Cape Town, South Africa. When she contracted cryptococcal meningitis, she was convinced she was going to die. But with the help of life-saving treatment, Cynthia has made a full recovery.
Driving innovation through South-South collaboration
Leveraging our experience bolstering South-South collaboration for hepatitis C R&D, we are now joining essential government, science, and industry partners across LMICs to find a safe, effective, and affordable treatment for dengue fever.
Paving the way for the elimination of visceral leishmaniasis in India
Since the start of intensified VL detection and treatment activities in India, VL cases have plummeted by 98%, from 77,100 registered cases in 1992 to just 1,275 in 2021. However, the 'last mile' of India's push toward VL elimination presents unique challenges, as will sustaining elimination, once achieved.
Lalmati Devi, 45 years old, lives in Bheldi, Bihar, India.
Focusing on the needs of the most neglected
'There are 20 days of treatment, and if you miss one, the countdown starts again.'
Ana Mariluz Reyes Morales and her family lives in Ancas, a small town in southern Peru. Both of her two children have CL, and the hospital where they receive care in Lima is 12 hours away from their home.
Drug discovery: New partnership for COVID-19 antivirals
At the end of 2021, DNDi, the University of São Paulo, and Medicines for Malaria Venture (MMV) joined forces to identify and develop new lead molecules targeting SARS-CoV-2 that can be advanced to clinical trials for new safe, effective, and affordable antiviral treatments for COVID-19.
Expediting access: The iChagas app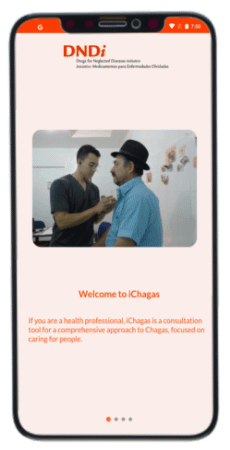 Health workers often lack access to the information they need to identify and care for people with Chagas. To help overcome this barrier, DNDi launched the mobile application iChagas in 2021, developed with partners across the region. 
Early-stage research and clinical development in 2021
88
clinical sites in 28 countries, active
in 8 disease areas
64
clinicalearly-stage research sites in 16 countries
3,487
patients enrolled in active DNDi
clinical studies
Active clinical sites
Sleeping sickness
Leishmaniasis
Chagas disease
Filaria: River blindness
Mycetoma
HIV
Hepatitis C
COVID-19
EARLY-STAGE RESEARCH SITES
(Drug discovery and pre-clinical development)
RESEARCH PLATFORMS AND NETWORKS
Map boundaries and borders do not reflect any position by DNDi on their legal status
Photo credits: Brent Stirton/Getty Images; Manon Voland-DNDi; Kishore Pandit-DNDi; Sydelle Willow Smith-EDCTP; Vinicius Berger-DNDi; DeepMind; Karin Schermbrucker-DNDi; Black Visuals-DNDi; Manis Gupta-DNDi; Ana Ferreira-DNDi; Emmanuel Museruka-DNDi; Ley Uwera-DNDi; Lameck Ododo-DNDi; Xavier Vahed-DNDi; Abang Amirrul Hadi-DNDi; Maneesh Agnihotri-DNDi
DNDi has now delivered 12 new treatments for six neglected diseases.
Every contribution is essential to advancing DNDi's mission and goals. We are deeply grateful to our donors and partners for their support in 2021.
Get our latest news, personal stories, research articles, and job opportunities.